Yes I got sick of the last template as it just got tooo busy and crowded with 3 columns. So I opted for a 2 column format and a cleaner look.
Recently I revisited an old hobby of mine. We had a biscornus exchange at the
Malaysian Stitchers
group and I chose to do mine in hardanger.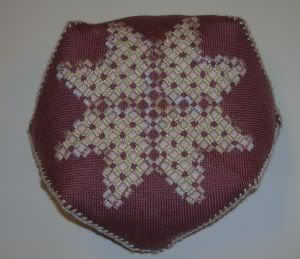 A biscornus is a cute 8 sided pillow that looks deceptively hard to do but is actually quite easy to execute..
Check this site out for an online tutorial
Hardanger is actually pretty nerve wrecking especially since I've been out of practice. The holes are made of actually cutting the weft threads (or is it weave?? I can never remember the term) and then weaving the remainder to make lacey patterns.
Here's a great online tutorial
.
It's not so hard, but one snip at the wrong thread can ruin the whole piece.
My little biscornus is going to
Najwa
tomorrow morning. Hope she doesn't mind me giving a sneek peek to the world first.
I've also been working on this mysterious cables project - So mysterious I don't know what to make out of it yet. It's actually the back of a sweater from a japanese magazine but I think I'm going to make a rectangular piece and turn into a clutch purse.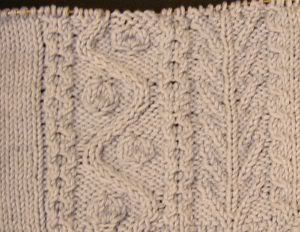 Erin
asked about my Plaza - umm it's languishing. I stopped with one front piece and the collar to go but just can't get myself to carry on. I will go back to it when I finish Samus. Only one more sleeve to go.