I couldn't get someone to model it for me but I did get someone to take a photo of me modeling the Lotus Blossom Shawl.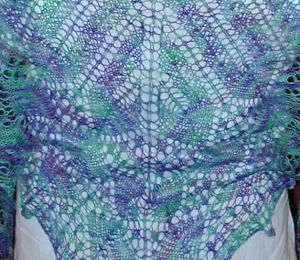 The colours are much nicer once it's blocked. And it's sooooo light. I just realised that Fleece Artist Country Silk - the recommended yarn- is actually a sport weight not lace weight, which would account for the size and weight difference. My shawl is 72" across but only 36" in length. No matter, it suits us vertically-challenged asians well enough.
This is now going to be wrapped and ribboned for my Mum as her birthday gift this weekend. Just as well I finished it ahead of time. I have to give credit to the start of the English Premier League season. Sitting through match after match with my husband gives me plenty of time to knit.
What next?
I started the
Silk corset
and got the arm holes done. I tried to put my arm through and it embarrassingly got stuck halfway up my upper arm. So that's in the frogpond for the moment.
I've been toying with an idea of a A- Line top down lacy cardigan and with some encouragement from Lyn,I'm going to try it out this weekend.