I've been going nuts with the sock stash lately - have a look at the two Opals I just ordered from
Astrid's Dutch Obsession
- The purply one is a prototype and the other one is an Opal Rodeo 1153. Astrid has great prices and wonderful service so take a look if you're interested in getting some Opals.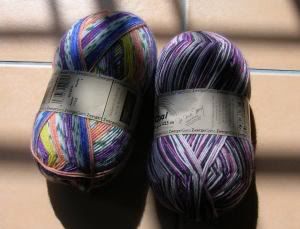 Forgive the me-trying-to-be-artisitic photo

And finally some spinning stash! Nice hand dyed corridale and romney blend from
Kendig Cottage.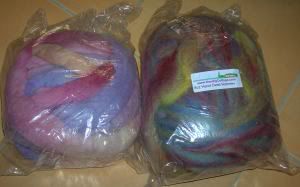 500 gms each of springy roving
Celia's been asking about my spinning. Well I finally managed to ply the Jacobs and the cream Corridale last week, gave it a nice warm bath and hung it to dry in the bathroom -
I'm glad to say that there was hardly any twist so it's fairly balanced.
Take a closer look at the good bits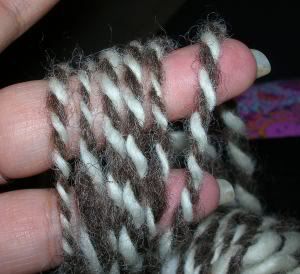 and then the bad bits where the yarn is terribly overtwisted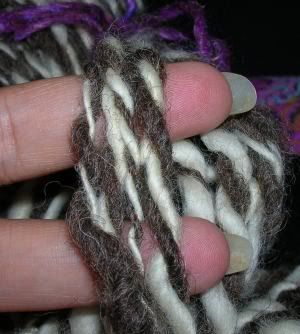 Now comes the perennial new spinner's question - what shall I do with this yarn? I want to commemorate its creation in a special way. Perhaps a wall hanging?
*BTW Lyn told me that there's something wrong with my comment section. And here I thought I must have offended everybody cos I wasn't getting any comments. You can still comment by sending me an
email
. I'll put it up on the blog.