I just got to show this quick peek at the completed but very crumpled Lotus Blossom Shawl.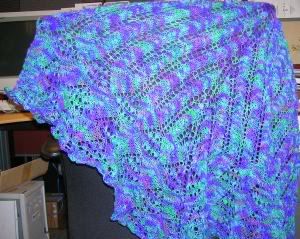 Lotus Blossom Shawl from
Fiddlesticks .
Cherry Tree Hill Merino Laceweight - Colourway: Dusk
Approx 600- 700 yds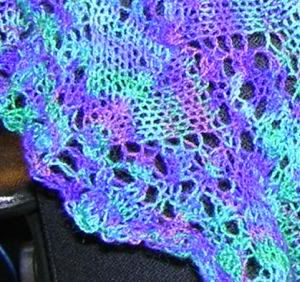 I am not too pleased with the colourway - that sudden splash of electric purple does distract from this very lovely design. But this is one pattern I'm pretty sure I will do again.
What shall be my next lace project? I'm still deciding between giving
Inky Dinky
another try or Madli's shawl, from Interweave Summer 2004.
For some reason, my husband wants to take me out to dinner tonight. But I can't wait to get this little number blocked out. Tough Call huh!