I wanted to wait for a good day of natural sunlight to take the photo of my completed Lorna's Laces Hawaii Socks but sadly, we're a little hazy in the Klang Valley at the moment.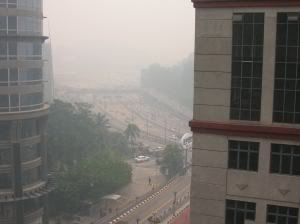 In fact it's gotten so bad, some parts of my state is under a state of emergency, with closures of schools and public places.
Here's a pic of the socks anyway.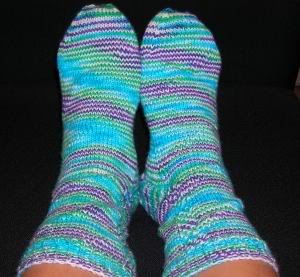 It turned out too big for me but fits my sister perfectly so guess who gets to to cuddle up to these on those cold (but non-hazy) winter nights in NZ.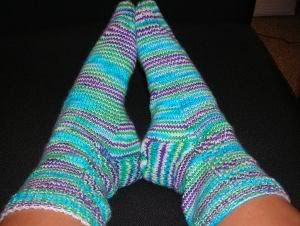 Strangely enough, there was no sign of the dreaded Second Sock syndrome. I found my second sock went faster rather than slower, possibly because I no longer have to refer to the pattern all the time. yeh I know they don't match but hey I am not that fussed. Next up, toe up socks with Opal.
On the
Lotus Blossom Shawl
, I have it on good authority that when you have finished half the number of rows, you're only a quarter of the way through in terms of yarn.
So with some handy tips from the
Summer of Lace
group, I managed do up a shawl spreadsheet and figured out that at Row 121 of 166, I am only 50% complete. So no problems with yarn there.
I am targetting 1st September for the completion of either the Lotus Blossom or the Plaza, after which I just have to start the
Silk corset pullover
from Anne Modesitt.