I was just finishing up this spin project last night when I remembered I had not taken a pic of the batt itself so here it is :-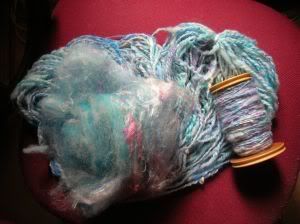 From Batt to Bobbin to Yarn. The batt is from Crosspatch Creations that I found on ebay many moons ago. Have a look at more
Crosspatch Creations
batts at The Bellweather and drool over the lucious colours.
Crosspatch Creation batts are a mixture of many fibers ,wool as well as some silk noil and it produce a nubby type yarn with lots of interesting textures.

I used a flash in this pic to show the reflection of little silky bits.

I split each batt lengthwise into four and just pre drafted a little before spinning. The result is a two plied aran weight yarn - I haven't measure the wpi yet.
I'm thinking making this into a nice bag maybe the
RYC Belt bag
with some co-ordinating yarn.
And now for a quick look at the dye-pot.
More updates on that later.