I was completely swamped at work and just realised I didn't update the pics I took at the last meet-up on the 7th.
Jackie
came along with her latest project - an incredible cable and lace afghan.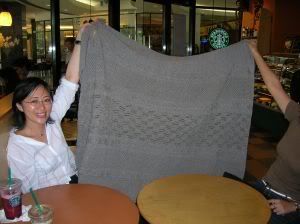 You have to take a closer look to fully appreciate the enormity of this project.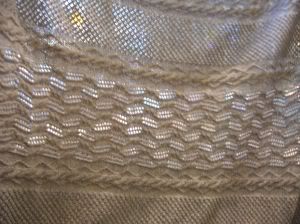 She's going to tell you more about it when she gets round to updating her
blog
.
Sally came along with her well fitted Green Gables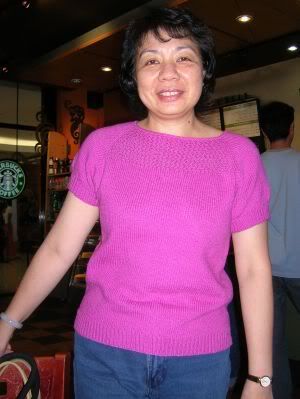 Mira and Rain were there too, knitting on some very luxurious looking tape yarn and Doreen popped by a little later.
Everyone agreed that my
SKB
needs to be sent to the frog pond so it has been chucked into my death bin ever since.
Over at the Knitters Review forum, there was a discussion a couple of weeks ago about a lace fichu pattern selling on ebay.
As far as I can make out a Fichu is a smaller version of a triangular shawl, draped over the shoulders for a decorative purpose more than for warmth, which, to me,makes more sense to me in these tropical climes.
I love knitting lace shawls but I sometimes balk when I think of whether I will ever use the FOs. With a fichu I can pair it up with a simple blouse without looking too OTT. God knows I have too much laceweight that I really need to stashbust.
Anyways have a look at these gorgeous little fichus.
Ethereal Fichu
from HeartStrings Fiber Arts
Lace Fichu
Smaller triangular shawls would also work as a fichu
Swallowtail Shawl
Everyone's Favourite
Flower Basket Shawl ( my version)
Diamond Fantasy Shawl
. Doreen brought
hers
to show during the meet- up but I didn't get a pic.
Anyone else has any other suggestions?