Just a quick post to show you the second weaving project off the loom.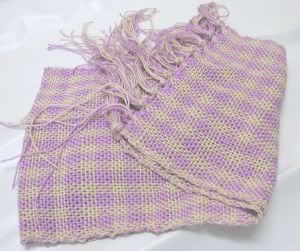 It's supposed to be enough for two cushion covers but I underestimated the width. it's a funny piece, enough for one funny shape oblong pillow (and I have to make up the pillow myself) or two tiny tiny cushions (I have to make that up myself too). I haven't decided - I might just line it and just leave it as a table runner.
As you can see the selvedges are still pretty messy but improving.
Tonight I'll be using my mum's dining table to warp my next project - yes another table runner. This time in novelty threads. And then after that, I intend to pick up some some pick-up techniques and do something different.
Have a look at what
sweetgeorgia
is doing! Giving me all kinds of ideas tsk tsk tsk.
There has been some knitting going on - truly! Just don't have any FO pics to show. I'm almost at the finish line with RYC Plaza - having one half of a collar to do. Notice my sis has come and gone - but she took Samus as compensation - so she can't complain.
Also almost to the cuff with
Heels and Toes
and still some lace on the side.
And... and started this
new project
too.
I really need to sleep less.