Well the heels and toes won!!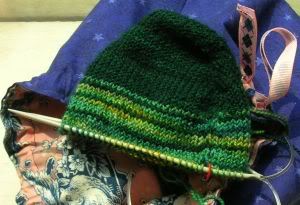 I just started of with the deep hunter green and then gradually increased the number of rows of the contrasting Koigu after the toe was done. I plan to do this before the heel and before the cuffs, finishing off the cuffs with the deep green.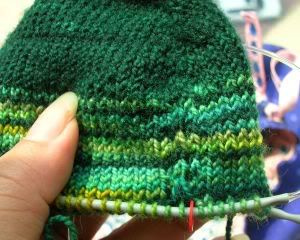 Tried out the jogless round and I think that I have been pretty succesful although not neat enough.
Erin - with toe up socks, you can adjust the curve (think that is the right term) of the toe by varying the amount of stitches you wrap. I wrap around 9 stitches on each end but you can wrap more if you want it to be pointier or less if you want it to be flatter.
This pair is going to my sister as she's complaining about the cold winter in Auckland this year.
BTW I got the cute sock bag in a swap with
Trek casts on
. Have you seen the
Gumball Footies
sock she made from my
Papaya Rose
colourway??