I'm feeling a little exposed here.
The process of cleaning up the store room and putting the stash into the new cabinets has just made me realise what a terrible stasher I am.
Remember this?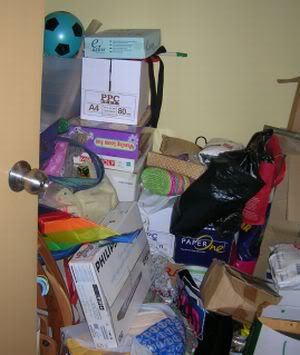 The cabinets finally came on Saturday afternoon.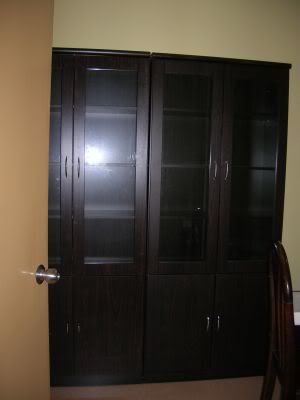 Doesn't it look so neat and clean?? You haven't seen the rest of the kitchen and living room. That's where all of the stuff that was previously in the room is.
I had to do a little shifting around of PC table since the cabinets were bigger than I thought they were.
Lyn
gave me a good tip of putting all the yarn in plastic baggies and in the cabinets, instead of the WIPs. So now all my WIPS except the current sock obsession is in the plastic bins.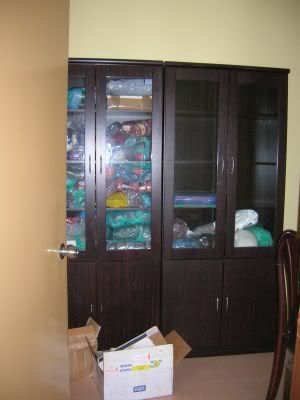 This is far as I got before I had to leave for my parents-in-law's place in Melaka. Bearing in mind that I have yet to put in all my odd balls and my old quilting stash (trying to sell them all).
I prattled about the cabinets for at least one hour before I finally thought to ask DH, "Do you have anything to put in the cabinets?" I think his tongue was almost bleeding from biting, I know his eyes nearly rolled off his head. But he's a good sort so I'll make some space for him. That's what marriage is all about I guess!
BUT ... the whole lesson learnt is that I must do some serious stashbusting. I mean I think I have every kind of yarn I have ever wanted to try for all the patterns I want to try. What more could a girl want??
Oh I forgot .. the whole point of making some space here was because the ... other thing that's arriving at the end of the month.... Sigh! I can just see another stashing cycle looming in the horizon.