I was inspired by Eunny Jang's post on
blocking her handspun shawl.
See the yarn was spun out from merino tencel roving and it just so happened I had about 2 oz in my spinning stash of merino tencel roving I got about a year ago.
So I decided to spin it up to the thinnest I could and this is what I got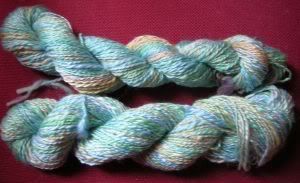 The colourway is called Beach and it's from
Kendig Cottage
. It spins like a dream, it's soft and shiny but not as tough to draft as silk. I know that there are many hand painted rovings on offer on the 'net but I seem to like all of Vicki's colourways and her service has always been top notch.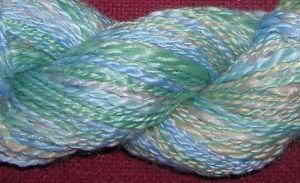 This is roughly fingering weight and it's not very even BUT I think it's the best I've spun so far.
Now I need another 4 oz to get a decent yardage of a shoulder scarf.