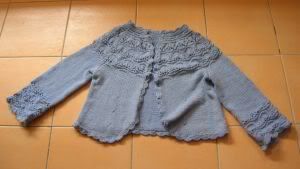 Cotton Ease - Just over 6 balls

I will update with a few more pics and details later. I just discovered a huge hole where I dropped two stitches!! Major surgery will be performed tonight.
I miscounted the top a little and decreased more than I should for my size. Although the neckline still fits, it's not quiet as wide as I would have liked it to be.
I crocheted scallops around the edges which I think worked very well for this knit and eliminate the needs for buttons. I can still put them in if I want but I'm planning on just wearing it open with a brooch at the neck.
I'll just leave you with one knitting success - Chris' lovely blouse (her BF calls it the pink christmad tree, the silly man) which she wore to our mini meet on Sat.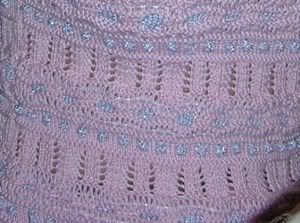 Look at all that detail!!
And see! It suits her perfectly