Quick update on a quick project I did in the weekend.
I have never done a cap before and I wanted to practice so that I can gear up to making some chemo caps in a charity project some of us Malaysian knitters are still discussing.

Shedir from the Knitty.com
Sirdar Rio Cotton Rich 50 gm ball x 1
3.75 mm size needles

I used needles a size too big and found that out quickly so had to reduce the number of repeats at the brim. The result is a Shedir skull cap for a very big head.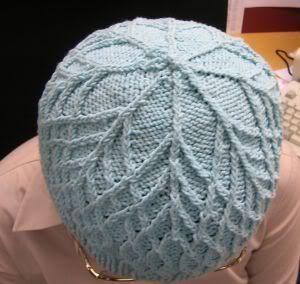 But I love the top motif and I enjoyed the cabling practice instead of all that lace.
That's all for now folks