Before I leave you with a few brief scenes of Bangkok/ Krung Thep/City of Angels - I got to show you what I am currently working on
Lotus Blossom Shawl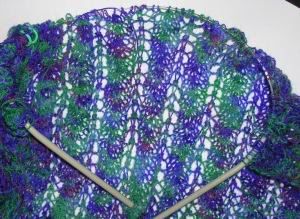 I am getting a little worried. I'm almost to the lotus blossom part and it really doen't look anywhere as big as it should. I am using Cherry Tree Hill Laceweight Merino in Dusk colourway. Beautiful yarn and it seems never ending. I got about 1000 yards which I would into 4 balls and I haven't finished 1 ball yet. Is it time for me to panic yet??
Hawaii Sock Part Two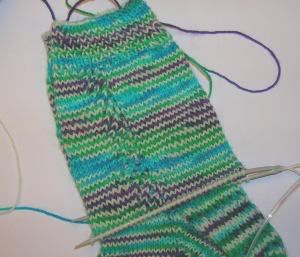 I am just about ready to divide up for the heel. This is the sucky part cos I have to figure out the needle 1 ,2 & 3 position although I am knitting with a circular. My problem is that I always slip the last stitch of the needle on to the next one to reduce those terrible ladders by the side. So I am never at the same position at any one time. Sigh! toe-up and short row heels for the next sock, I promise.
And now I leave you with scenes of that exotic city.