I thought I'd ease mysef back into knitting by doing something simple and fast. So when my colleague asked me to knit a chemo hat for her dad undergoing chemotherapy, I jumped at the chance to try out
Topi
.
It was a fast knit using the Rowan's All Season Cotton leftovers from Samus. Camouflage green is a nice manly colour and I just love the yarn.
It took my two nights but as I was binding off and looking at the picture I noticed something strange. The brim look very much shorter than in the picture.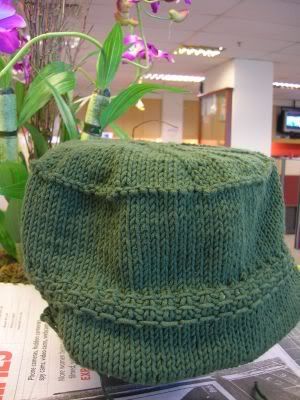 Looked over the pattern again and I noticed that I did not read this line -
Work back and forth in stockinette st until brim measures 1 inch, ending with a WS row.
just before the short rowing.
So I have to go back and finish this thing tonight.
The pattern is so easy and fast, I'm planning another one in girly pink. Hopefully this will ease me in to start back on my other WIPs.