I have finally received the Jane Ellison book.
Jessica
kindly got me one to replace the one "lost in the mail". I am never going to buy from that ebay seller again.
Anyway who could resist such a beautiful knit?? I was dying to see how the Noro would knit up so I casted on last Friday. By Monday I had realised that I used larger size needles (5.5mm instead 5.0mm) and the back looked kind of HUGE. Measured it and yeap sure enough, the back was 30 inches in width!
So off to the frog pond I go. I recasted on correct sizes and here's my progress as of today.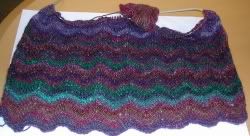 I am about 2 inches away from the armhole shaping and just finishing my 2nd ball. I have shortened it by 4 inches - just enough at the back to cover my butt. So I am hoping to get away with 10- 12 balls to finish this project.
I can't wait to finish the back, as the other projects are clamouring for my attention but who could resist such luscious colours?
The Curtain person is coming today to install the tracks (woo- hoo)and I hope to get some curtains up by the end of the day. Problem is DH wants light green curtains but I think that will clash with the yellow and rose walls. I want khaki!! Khaki or a darker sage green - not light pastel apple green! Some people just have no sense of colour.
We're ready to move in now but I can't handle the packing at the moment. I don't even want to think about it. Excuse me while I go back to my Butterfly.