I've started a Clapotis of sorts.
When
Lyn
and I went shopping last week, I got more of the Sirdar Country Style in a rosey colourway and am using it for Clapotis no 1. It's not variegated, more of tweedy type yarn but it's looking really cool except that it needs severe blocking.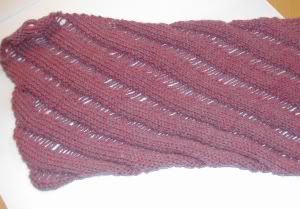 Click here for a more detailed look
I also did not make it as wide as the original but hey I'd probably be sweating buckets in this anyway.
For this Clapotis is Mine! All Mine! Well unless I find that the Cherry Tree Worsted Pot Luck yarn I won on eBay is even better.
I have another link for Clapotis
Froggy
- Artyarn Supermerino (gosh it looks gorgeous)
and some more possibilities
Axelle
has some of her own hand dyed yarn which looks really beautiful
Martheme
has lovely colourways with great prices.
I swear every yarn I look at now has Clapotis possibilities.
Thanks for all the comments and I'll be putting a list in a file at the side bar for all these possible substitutions for Clapotis soon.
Other knitting news -
I've finished the back of the ASC Lacy Cardigan , it's on the blocking board - well half of it is. Because of the fact the sleeves are cast on from the sides and not knitted separately makes it really tedious to finish and too huge for my teensy weensy blocking board. It's going to be one heavy cardigan... BUT a quick knit.
Now to finish of the Mossy Cable scarf and send it off with others to my sis in NZ.
p.s. Don't know if I should say this but I think
Lyn
started a new job yesterday. Do wish her all the best.