I've finished the back of the lacy green top.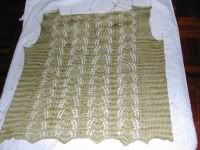 Click here for a closer look at the lacy pattern.
I think it looks huge but I laid on of my t shirts on top of it and it seems to be the right size... sigh!
Now that I finished the back of this top,
Consomme,
my yarn counsellor gave permission to cast on another project. It was between the Dive Cottone Egitto in charcoal or Rowan ASC (All Season's Cotton) in Safari. This is the ASC originally bought for the Rebecca Apricot Cardigan that everyone was raving about last summer. I decided against doing the Cardi cos - well I don't think it will look very flattering on me although it looks absolutely gorgeous on
Fluffa
and
Froggy.
Because I was dying to do something that was little more chunky than the usual DK/sportweight cotton I've been knitting on lately, the ASC won - and I have decided on this pattern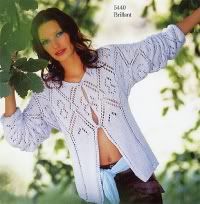 but with shorter sleeves.
and my progress - 6 inches of the back -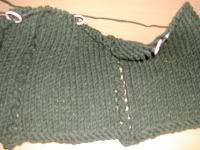 (does anyone know how to make those circular needles less curly?)
ASC is such a welcome change from the tough cotton yarns I've been knitting on, so soft and springy. Consomme had a look at the yarn yesterday and is now convinced she must get some. And I have to say I will probably snap up more of this whenever there is a sale.
The Noro and The Butterfly
Now I have a very big decision to make about the Noro and the Butterfly. I love the Butterfly pattern - but I have not enough Noro to do the Butterfly unless I make it a vest instead. I could get more Noro or for the same price, use a Cherry Tree Hill handpainted worsted weight lot I got from eBay to use for the Butterfly. I can save the Noro for another project.
To complicated matters, I have been waiting for more than 6 weeks and the book has yet to turn up. It's sooo frustrating but I am resigned to never receiving it . I have found another Japanese Pattern which is similar - with the chevron stitch - although not a Cardigan but a sweater. However I need to make some major adjustments in gauge as the pattern calls of DK weight and the Noro is worsted weight.
The problem is , if the Butterfly ever arrives , it will be two chevron stitch projects and I 'm a bit of an attention deficit type personality as in I don't like doing the same pattern twice.
You see my dilemma? Someone please make a decision for me . Use the Noro for the Japanese pattern now ? Wait for the Butterfly?
Help .. please..