I think I may have bitten off more than I can chew - The Inky Dinky spider stole has lace stitches on EVERY row and not just alternate rows. Still I am determined to give it a try. I was really excited on Friday night, couldn't wait to get home to wind up all the yarn into balls and then start my swatch.
Instead I got stuck in a 2 hour jam - and didn't get in until 9.30 pm. And winding 200m is a breeze compared 800+ m of lace weight yarn. Although I must say I enjoyed looking at the colours as I wound the balls.
I didn't finish winding until almost midnight, but still determined to start my swatch. I started with 3mm needles as recommended and found the swatch to be tiny - I had to go up to 4.5mm needles before the swatch is satisfactory to at least 5", about a half inch smaller the gauge stated. By this time - about 2.00 am, I was too tired to care and am pretty sure there are some major mistakes in the lace because heck, the swatch looks nothing like the picture in the pattern.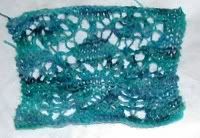 .
I am determined to give it another try tonight with bamboo needles this time. I understand now the value of bamboo needles when lace knitting - the stupid stitches kept slipping and sliding all over the place with the metal needles. I couldn't quite understand the meaning of "losing yarn overs" until I did this swatch.
If I don't get it right the second time around- I might just switch to the lacy lattice stole - which looks like a simpler pattern to work on.