I received some sock yarn today. I bought it about 6 weeks ago to make
Devan
. I bought 3 colourways because it was cheap.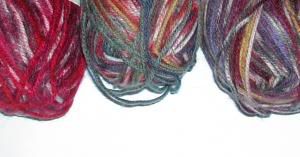 Now I am thinking I should use one pair to knit some socks. I don't wear socks, the weather here is too hot except for the teenie sportsocks for sneakers. My husband wears only the very thin fine egyption cotton / wool ones for work.
But the knitter in me just wants to try it out- it's this mesmerising itch at the back of my mind, whispering, "one day I'll try to do socks"...or ... " wonder what it's like knitting with 3 DPNS" and ..."wow those colours are intriguing, wonder how the self striping turns out" .. and just lately.. "I've finally found my 2.5 mm dpns that was lost for 2 years, maybe this is a sign!!!"
Oh what the hell, it's going to be a slow day at the office - most people have taken leave to take advantage of a very long weekend ( it's the Muslim holiday of Eidh on Sunday) and I am all alone in my section.
Let's just cast on and see how it goes.