I did resist the lure of the socks - for now. I do want to finish at least a couple of my projects first. With that in mind I have almost finished the back of the ASC Lacy Jacket when I ran out of yarn. Most of my stash is at my mum's place in storage until I move to my new house in December. I kept a couple of balls with the project but the ASC went so fast. I've now just finished my 4th ball. Same thing happened with my Trinity Lacy Tunic. SO what is a girl to do!
Just when I resigned myself to sitting down and figuring out a sock - I realise that I had packed my dpns in the same box as all the yarn.
This is what I did last weekend instead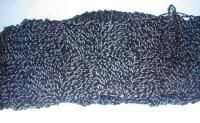 Click here for a more detailed view
Yarn:- Schachenmayr Apollo 100% acrylic
Pattern:French Crinkly Scarf from
Un Journal de Marie
For some reason, mine doesn't look as crinkly as hers, probably because I use repetitions of 10 and not 6.
I just realised that I do have 5 scarves to make for Christmas and here's the yarn for the next one :-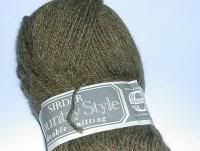 Proposed pattern :
Irish Hiking scarf
or a similar cabled scarf
Also in my head is a
Multi directional scarf
from one of those infernal sock yarns.
All scarves are going off to NZ for my sister and her family for christmas so I better get them out by the beginning of December.