What's up with the dye run
Trekcelt
answered my call for test knitters for papaya rose and she has had quite an adventure with it.
Read her exploits here
. Firstly I am very glad that she likes the colour . I can't seem to duplicate it and I have officially run out of base yarn.
I'm so sad that the dye is running even though I dyed with vinegar in the dye bath and had a clear rinse. She's gonna soldier on with it but I've offered to replace her needles. The least I could do.
My World Cup KAL project
I wanted something sexy, full of grace and passion so I choose
Elann's Sonata Crest of Wave tank
, although I hope to add some sleeves to it. Using the Hot Pink Rowan Calmer I have in my stash. The tank is graceful and sexy and Calmer is ... da BOMB! I've been hoarding it for the longest time searching for the right project and now I think if I could afford it I would knit with nothing else. It's so soft and cushy and light, and after Trinity, glides smoothly along the needles with no problem at all.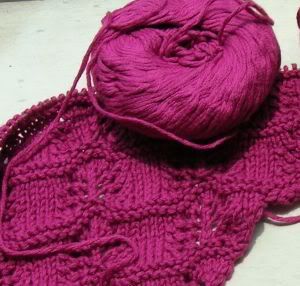 Watch 3 games and I'm almost done with the top half of the front. I hope to have it done by the end of the world cup or sooner.
Summer bags for swap or sale.
I've been shopping the flea markets and picked up some of these really cute handwoven bags. They're from Indonesia and are handmade by a village co-op. I have yet to get more details about the co-op ( these type of details are really difficult to get as suppliers are not too keen on giving out details for fear other people may muscle into their business). But I thought that it would be great to put them up for sale or swap.
They're $18.00 each and postage is $5.00 international or I'll swap for hand dyed sock yarn like STR, Fleece Artist, Sweetgeorgia's, etc etc.,
email
to offer.