I am still getting my grip in 2007, a little aimless wandering around especially to do with knitting. Although I have been working on
Ariann
on and off, it's not inspiring me at the moment.
I have been spinning a lot more and I finished off the batts from Crosspatch Creations.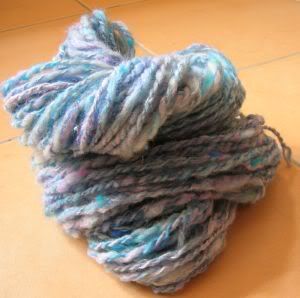 Started on my own hand dyed roving but I wanted to take a seres of photoes on how the colour changes on the bobbin so I'll update that on a later date.
On the knitting front, I have been looking over my huge stash and books and starting to decide what I really want to achieve this year.
These are the goals I have come up with and in no particular order -
1. At least one lacy top from the numerous Japanese Mags I have
2. At least one cabled sweater
3. At least one colourwork or fair isle project
4. Knee high socks for my sis
5. At least one shawl from Simple Stunning collection from Sharon …
6. Try to finish the Forest Path Stole
7. At least 3 spin to knit projects
8. Finish at 3 WIP or recycle the yarn and finish the project
9. Start charity craft project
10. At least 1 lace doily or table cloth from my very beautiful Japanese lace book which apparently has some Kinzel patterns in it.
Making lists really work!! I was so fired up that I immediately worked up a swatch with my chosen yarn , Rowan Felted Tweed, for what will be my colorwork project.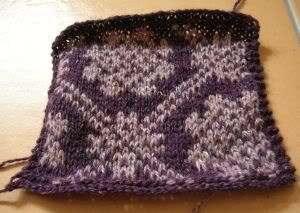 Not bad for someone who hasn't "stranded" since 1991.
So I have been thinking at first of making a tunic or vest with just a colourwork border at the hem. But I had a look at Eunny's Deep V and decided that that will work for what I want. Plus it has an added challenge, "Steeks"!!!