Oh I know it's been some time since I posted but there's been so much going on the last 3 weeks.
1. A whirlwind trip to Penang just before Christmas
2. Christmas dinner with DH's family at our place, and dinner with my family at my mum's on Boxing Day.
3. Internet interruptions after Boxing day (and still continuing to this day). It's almost impossible to upload anything to Photobucket and getting into Blogger has only recently stopped being a pain.
4. New Year Eve weekend in the East Coast
5. Greg starting Kindy after the New Year - which was thankfully almost painless. He's enjoying kindy and looks forward to it every day.
6. Back to a whole pile of work for me and DH.
I haven't done much knitting. In fact I am still a little shellshocked at the amount of stash I bought in December to compensate for the 9 months yarn diet. When I feel a little less in denial I will show you the amount of Rowan Calmer I got.
It's not so much what I ought but now trying to figure what to knit with it. This weekend will be devoted to looking through my numerous books and finally starting to mark out what yarns would suit what project.
I hope to have a more to update in the coming days - espcially now the 'net is back to almost normal.
Meanwhile I will leave you with a few scenes of Penang which I took during our fly by visit.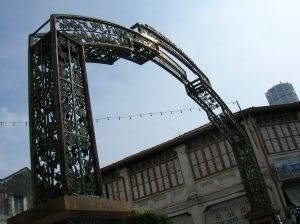 The entrance to Campbell Street.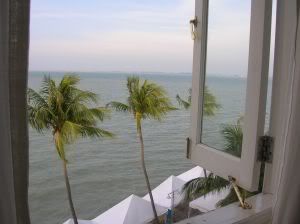 The view from the most prestigious hotel in Penang, The Eastern and Oriental courtesy of a more fortunate friend. I wish I had the chance to stay there.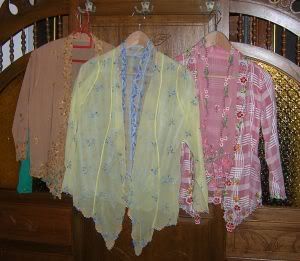 Traditional kebayas hanging from an armoire at the Peranakan Museum Penang.