I am rich!!! I sold off some Cross stitch patterns on Ebay UK and made a cool US$40.00. What a dilemma - what shall I buy?? On my eBay watchlist I have handpainted Jaggerspun Zephyr, Lorna's laces sock yarn, Handpainted yarn from South America, Turkish Novelty yarn from Yarnart.
BUT what I really want is some Knitpicks Shimmer yarn - will someone help me buy some? She doesn't ship overseas.
I am in a major lace kick currently. I keep looking at lace weight yarn and lace patterns until I'm really dizzy.
I started a little bit of Kiri with some Cherry Tree Hill laceweight yarn I had (colourway Dusk) and was mucho dissapointed at how the colourway pooled - I guess I need either bigger needles (I used 3.5mm) or different pattern to get the best out of this indigo- purple-green colurway.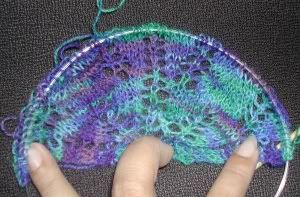 The good news is my Kid Silk Haze order arrived yesterday so I will probably start this again with the Nightly colourway and bigger needles.
Then I also casted on for this top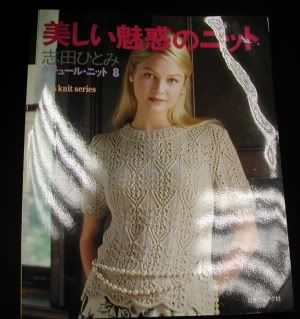 Forgive the funny reflection of the ceiling lights in my office.

I am using a fuschia Turkish cotton yarn from
Yarn Art
I got from ebay. A whopping 400 mt to a 100gm ball. The yarn is light and perfect for lacy tops BUT very splitty. Splits don't normally bother me but with a complicated pattern as this , the frogging is almost unbearable. But still I plug on and here's almost one little sleeve done.
For a close look at the detail, click here
BUT no more knitting for me for the next few days - I have a ring pillow to do for my sister-in-law's wedding. I've been postponing it for a while, it's hard to pick up an old hobby while one is still crazy about another one. But since the wedding is next weekend , I guess I better get a move on or I won't be able to show my face at the church.