I was sorting out my stash yesterday and found some scarf yarn that I hadn't touched. Before I knew it I was sitting down and casting on for a two hour scarf, forget the housework and the tax returns I was going to do...
What's a two hour scarf? well you take the biggest needle you have and cast one about 100 or so - I used 10mm needles and casted on 120 - That's the length of your scarf. Then you knit one or two alternating rows with each yarn - using a combinations of 3 or 4 yarns for a fun effect. Leave about 8 inchs tail at each end for a fringe. Keep going until you have the thickness that you want.
And if you don't understand all that - please go
here
for the Berocco version - only you can substitute which whatever yarn that you have on had. I used a Schachenmeyr Salsa yarn for the fur element, Sirdar cotton chenille and Schachenmeyr Jupiter.
And after all that you get a scarf - presenting the Midnight Show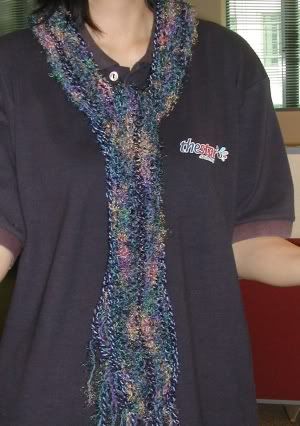 *Forgive the gratuitous advertising of our company logo but it's T shirt Friday and we HAVE to wear our company t shirt on Fridays.*

And a closer look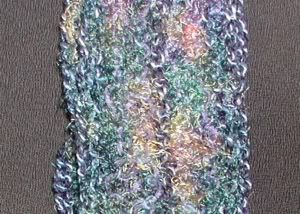 Why did I call it the Midnight Show ? well it was past midnight when I finished it - it wasn't really a 2 hour scarf - it was 3 hours - but then I was kind of caught up a little by West Wing Season 3 finale on DVD and American Idol on Cable.
Then I also thought it would be just the type of thing you'd wear to the freezing cinemas during a midnight show, especially if you're trying to avoid getting hickies from an over- amourous boyfriend. I used thinner yarn cause I wanted it to be wearable in tropical weather but the fun fur gives it just a little hint of being warm. The whole thing is incredibly soft though and a lot of fun -think I'll do a pink one next.
In the meantime - I casted on for
I do"
but ripped it cos I didn't think it was the right yarn. Lace in circulars is also the pits. I have a phobia of putting it down just in case I forget which row and where in the row I left off.
On a more happy note - here's my april stash of yarn ( more coming but we won't talk about that right now.)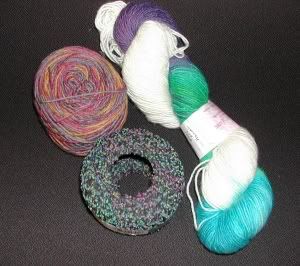 That's Lorna's Laces in Motherlode and Hawaii and the ball on the bottom left is a Japanese carry along yarn called Flowery and Thready ( yeah they have some strange names for their yarn ). It's ruinously expensive but it's gorgeous and I am thinking of running it together with my Kid Silk Haze yarn for a shawl.