I can't believe how fast the last 10 days have breezed by!
My team at work have been working hard last week to organise a 1000 pax screening for Star Wars: Revenge of the Sith and that took a toll on my sanity even though my roles was mainly supervisory. This is one of the thing I love about my job, getting to do fun things like organize ticket giveaways, costume line parties etc etc.
The movie? well I enjoyed mostly but I wish George Lucas has spend a little bit more money getting a proper scriptwriter rather than doing the script himself. It was mostly nonsensical and the only reason why Ep 3 was better than Ep 1 & 2 was because there wasn't much talking and more action. The husband couldn't help but cracked up at a "supposed" moving moment between Padme and Anakin, causing dirty looks from the audience around us.

Still, it didn't stop us from rediscovering our geekhood later when we watched Ep 4 & 6 on DVD. I am saving Empire Strikes Back for a nice quiet evening when I can savour every moment. It's still my favourite Star Wars movie and always will be.


Through the stress last week, I was knitting like a demon, trying to finish the front of Pseudo Gansey. Here's my progress as of Friday morning.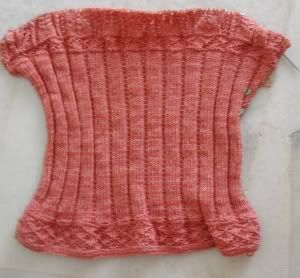 Take a closer look

I've since finished the front but I haven't had the time to take a photo which I will do tonight.


Meanwhile finally the last hank of Koigu needed to complete my Charlotte's Web Shawl has arrived, along with the pattern so I'll probably be starting that next.


Actually I had a truckload of stash arrive last week but I have to take them out to be photographed bit by bit so that the husband doesn't see it all at one go. And because I have had a truckload of stash arriving, I've put some stuff in the destashing site too. Need to make some room and weed out the stuff I don't think I'll ever use.

Stick around for more pictures tonight.