*warning: lots of pic so the page may take some godawful time to load*

I was going to post up my truckload of stash but got diverted by the arrival of my new sofa set. See I use to sit here to knit


It's Gregory'schair but it's so comfortable that I mostly sit on it to knit. Well it's either this, the floor or the foldable camp bed my husband usually lazes on.

Now I have a choice of knitting on this

or


or, if my husband doesn't bag it first, even on this


All seating arrangements courtesy of Ikea.




OK now all the excitement has died down here are my stash photoes for June -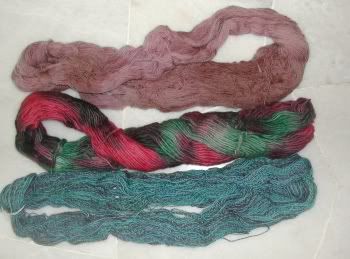 Malabrigo Handpainted yarn from the top:- Laceweight wool Damask Rose (a whopping 850m worth), Catalina Bulky wool Cuarenta, and Novelty boutone pure wool Pocitos.
I couldn't wait for the Yarn Co-op Hand Painted yarn to go deal to go through - (apparently that's run into some hiccups and we're still in the dark whether there is green light for this) so I just had to get some skeins to try them out. Service was incredible, low international shipping rates and the yarn arrived within 6 days.
Must... get... some... more...

Next is Jaggersoun Zephyr in Teal.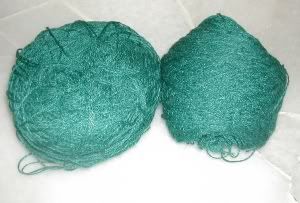 Finally the last skeing of koigu to make my Charlotte's web - It's the skein on the far left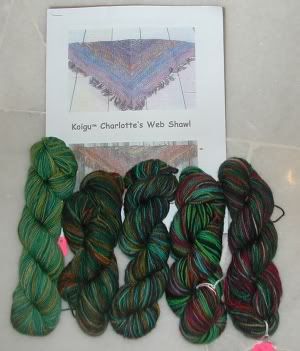 I'm playing with several different colourway choices now, it's not as easy as I thought. Especially since all the skeins have some green in them. I'll put up the choices when I have an opportunity to take some pictures in better light.


And now a pic of the finished front of the Psuedo Gansey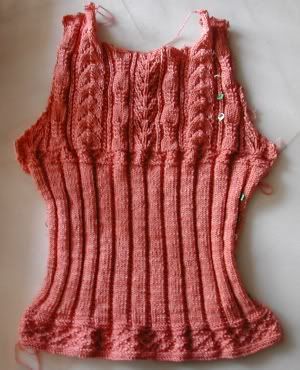 Take a closer look at the cables here
The photo was taken in natural light this morning - I took a pic with the flash and it totally washed out the detail. It should go for blocking tonight after a quick bath. This is the first knit I have done with proper row counting and surprise! the row gauge was spot on. I'm really happy with the way it turned out.
I am a little concerned about how springy the ribbing ( its a 5 x 3 rib) is and I'll probably stretch it out a bit during blocking. Don't want some unsightly bulges to appear at the tummy area. Or maybe I should just go on a diet.