New and improved Madli's Shawl in Malabrigo's laceweight Damask Rose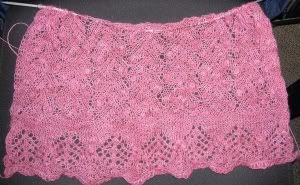 Think I'll christen this Madli's roses cos lookie here, see the cute little nupps - don't they look like rosebuds?
How do you like the new look?
I've been wanting to change since the blog birthday in September. I was pretty quiet about it cos I was swamped with work and didn't have time to do anything.
It's about time for a little housekeeping.
Lyn
,
Vannessa
and I went for very long shopping, destressing outing on Tuesday. You can read about Lyn's stash enhancing on her blog. I scored some laceweight cotton and crochet silk yarn but I need to get them out of the car (where they are hiding from my spouse) and take a good picture.
Stay tuned!