I am upset with KnitPick's Shimmer yarn.
I made a start with Madli's Shawl from Interweaves Knits Summer 2004 with the Turquise Splendour and I am annoyed at how the light green blotches just appear out nowhere. I mean it would have been better if there was some graduation of colour.
See!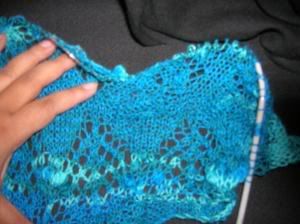 And what I have knitted so far is floppy! I can see that the yarn would be good for a simple lace pattern to make a really nice scarf that you can wear right next to your neck but not a full scale stole.
BUT I can say that I have actually conquered the nupperaphobia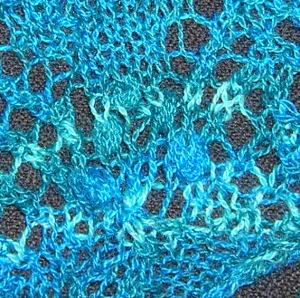 Not the neatest but I think I can do much better with a "crispier" yarn. (is there such a word?). Pagoda here i come
Want to see what the fuss is all about? Here are some links to a spate of finished Madli's shawls.
Keeping me in Stitches
FluffyKnitterDeb
Plastic Soul
Anyway I had to put it aside and worked on my top down cardie - which will be unveiled on Monday hopefully..
My brother decided ( after much persuasion) to give me a treat, since he didn't get any Christmas and birthday presents for me for 2 years.
Guess what's visiting my mailbox in a couple of weeks.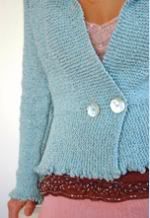 I.... *hyperventilate* ..can.... *hyperventilate* ..hardly... *hyperventilate* ..wait...