No not the wearable type.
One of my stitching friends sent some instructions on how to make a pumpkin pincushion and I did a little mistake (didn't put enough stuffing) and it became a flowerpinny.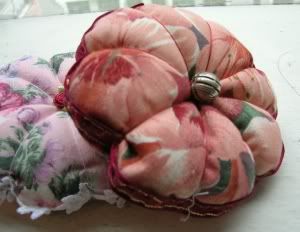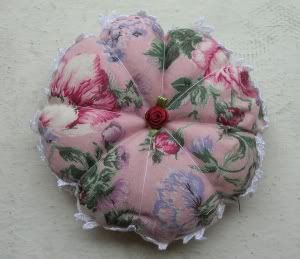 They need a bit of work like getting the binding thread more centered but overall I think they're ok. I will be putting up some for sale soon - would anyone be interested?
They're handy for keeping your pins safe when blocking. I'm working on a version with magnet at he bottom so you can pick up pins with it as well.
On the knitting front. I have finished one left front of the Plaza. One more front piece and then the button band and collar to go. Phew!! The seams are curling terribly but I don't want to block until I have finished the fronts so no photo yet.
I know
LYN
has tagged me for Flah my Stash but I'm going to pass at this time because
1. I am still in denial about half my stash
2. My in-laws will be around this weekend and I don't want them to get alarmed.
But I may do take some time to do it over the long holidays next week. Don't hold your breath though.