First to answer some of the comments
Felicia - the Concord mernio silk was from another eBay seller
Mountain Shadow Ranch
. Great service. I've finished spinning and plying this yarn and it's sitting on the bobbins relaxing for a day or two. I'd be skeining and measuring next week and then decide what I want to do with it- probably a Lacy Scarf.
Speaking of scarfs - I've finished my scarf for
Celia's scarf exchange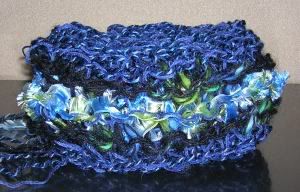 It's a long skinny number with a little of Paton's Boa in it - just a hint - not too much so it won't be classified as a fugly scarf, I hope.
To Secret Pal - The Pagoda is like Deep red with warm undertones - it's not a burgundy, more like a deep chilli red. Not much variegation in any of the colours I received, more of a dappling. I'm tempted to use this yarn for Madli's shawl instead of the Knit Picks Shimmer in Turquoise Splendour.
And speaking of Madli's Shawl, here's the just finished, unblocked, ends not weaved in Lacy Lattice shawl modeled by a passing colleague.