I've always wanted to start The Kerry Blue Shawl from Martha Waterman's Traditional Knitted Lace Shawls. But I've put it off because of that dratted circular cast on.
Thanks to my new Gathering of Lace book I followed the instructions for one of the cast-on methods where you do knits and yo into a loop. ( don't have my book handy but I'll post more details next time)
Still I had to modify further because my silly dpns kept falling out. So I decided to knit back and forth for about 4 rows before joining the stitches on circulars and knitting using the Magic Loop method.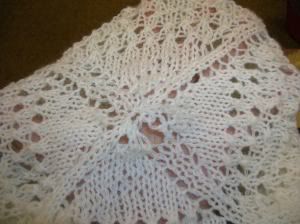 Kerry Blue Shawl 4.0mm needles using Sirdar Snuggly 3 ply
After a few rows you pull the loop and it closes nicely with no funny hole in the middle of the work. There is little gap between the first 4 rows but nothing a bit of seaming won't fix.
I'm getting right into the groove of this square shawl. Take a look at
Polly's
finished shawl. I always seem to need to see another finished project before I find the motivation to start my own.
This little shawl is going to one of my very best friend's new poppet, Caitlin, in Hong Kong. Caitlin's mummy and I went to university together and she's one those friends that I have no trouble picking up the threads with each time we meet, which is not very often. She's also one of the few friends I knitted for in varsity and she's always talked nostalgically about her favourite knitted sweater (now long departed) with that yarn I got on sale from the local department store.
It will take too long to knit something for Caitlin's mum, so Caitlin gets a nice blankie instead.
NB I know I promised more pics of the Iris Garden yarn but it was a hectic weekend with my in-laws visiting. Will try to get more pics in sunlight tomorrow.