Ok here's another ongoing post on my plying experiments. I got more pics with a little better detail although they are a little dark.
First up - Plying from two bobbins without regard to colourways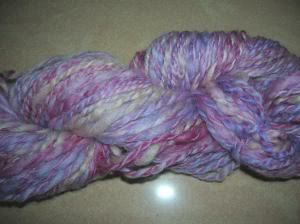 I decided to go random on this one and there were some stunning duotone results.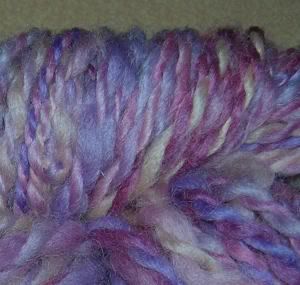 Navajo Ply - The Cool Cabled Composition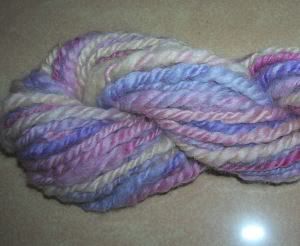 This keeps the colourway intact but oh what a bitch to do. It already takes enough of my attention to keep the wheel going without having to make chains as well. The number of times I got my hand stuck in a ever enclosing loop of yarn, resulting in panicked attempts to ensure blood circulation is not cut off - Countless!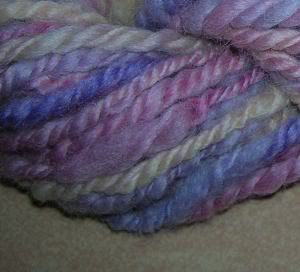 But look at how the yarn is all snugly plied against each other. Sweet!
Lastly the Shimmering Madness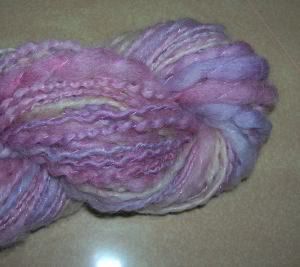 My favourite - I got to get more metallic thread.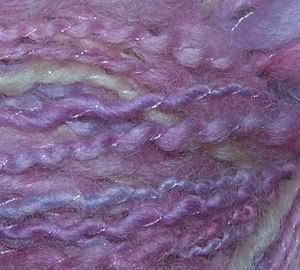 I repeat, I have to get more metallic thread :)
So I have about 250 yds of roughly worsted weight yarn and I've already ordered a contrasting colour - grape- from Vicky at Kendig Cottage. I think I might attempt a shrug when I finish spinning the grape up.
What's on the bobbin now.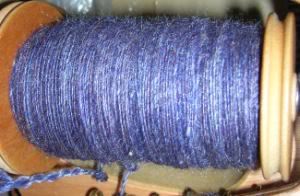 This luscious merino silk in Concord colourway, it's mostly black but the flash brings out the blue purple tone in it. I'm spinning it fine - almost fingering weight. This is like the roving that never ends. I haven't even used half and look how much I have on the bobbin.
How will I ply this? Not sure. Maybe I need to get more metallic thread :)!!