All hell has broken loose in the office. I have two events to organise in a space of one week apart and down to 2 support staff with one new one coming in on Monday to train. If that's not enough, the management keeps changing their mind on the minor details.

I actually have a paper bag on my desk in case I have a panic attack.


Thank God I started belly dancing classes last Saturday. And what an ...umm.. interesting class it was. Fist of all it seems completely illogical how a seemingly repressive culture like Islam is perceived to be now can produce such seductive dancing. Obviously there's a whole lot more going on under the surface. The whole point of belly dancing to most my fellow class mates is to love your own body, to show off all its curves and to enjoy the expression of your sexiness.


I got in a little late during the warm up session which is pretty basic, then the teacher reached into her bag and pulled out her beautiful swishy clinky belly dancing belt. And those little silver clappers . And proceed to take us through a simple routine of hip rolls. I have to say it is a dance form that loves curves and many of the skinny girls in the room did fare so well against us more substantial women. Hooray for belly dancing! Must get me one of those belts. Wonder if I can knit one?


I also did a bit of retail therapy and got a couple of the latest Japanese knitting magazines.


PS please forgive the quality of the photoes.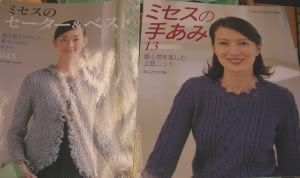 Take a look at some of the offerings. I find japanese patterns, albeit a little diffidcult to decipher, are extermely feminine and full of little unusual details. Having said that it seems I can complete a project to save my life.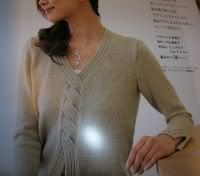 I have been looking for something like this every since I saw Penryn from the Jaeger Natural Fleece book. Of course the Jaeger one is too thick (I mean Fleece in 35 degrees??) but this one has a similar design in aran weight. The construction is different though. One has to knit the band separately and then twist is while sewing on to the front.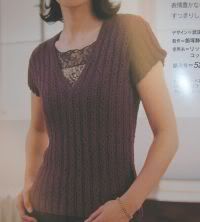 Don't be deceived. That isn't rib but a lace pattern. But don't you think the ribbed cap sleeves are so cute?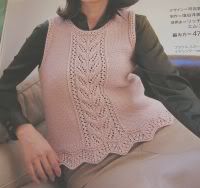 Perfect for my 5 balls of RYC cashsoft I bought from Vanessa.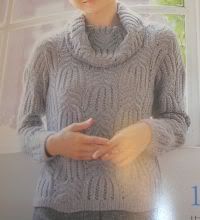 I'm not sure about the collar but the lace is absolutely Fab.

Last but not least, here's my current stash obsession.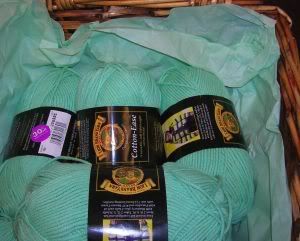 Pistachio Cotton Ease I swapped for on the
Knitty board
.