I'm in a rut again. I have so many projects I'd like to start but really want to finish the ones I have on the needles. But procrastination is my middle name. My sister's Plaza cardigan still languishes with only one left front to do and a shawl collar.
I have however chosen to start one lunchtime project -
Samus
. I'd like to incorporate some waist shaping to it but since there are no side seams to this knit, it's going to take some doing.
I know
Lyn
and
Vanessa
will be annoyed because they want so much to see the
KH Glimmer
turns out.
But I really want to lose weight before I start on Glimmer - it's such a beautiful knit, I want to look my best in it. So with that in mind, I've joined a gym and am starting yoga and bellydancing this week.
Seems like a lot of work for one knit eh? Hey I'm not complaining - I need all the motivation I can get. My DH says I'd rather lose weight for a knit project than for him. Well Honey, it's about time you knew where my priorities lie.
I just need to show you what I've been spinning -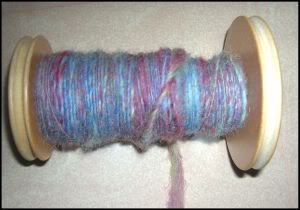 Hand-dyed Romney from Kendig Cottage
Althought I am pretty please with the colours, I'm not enjoying the roving. It's so different from the merino silk or the corriedale being more of a rough crimpy type wool. I'm planning this to be my first felted bag project since I don't think I'd be able to wear it next to my skin.
P.S. To my Secret Pal - Thanks for the advice on the Screamypants problem. And no problem with a big package, I know how it is.