Why 8? Because I couldn't think of 10
1. Shop in Jatujak market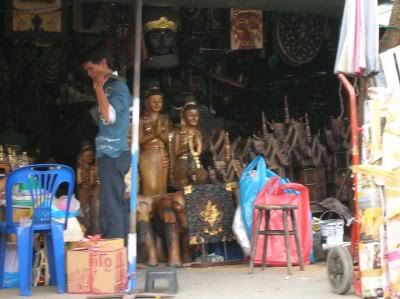 You just have to. It's a one stop wholesale weekend market that just caters for almost everything under the sun. All except yarn, sadly. If you're a beader or a paper crafter - you'd probably faint from sheer delight. Those unable to visit Bangkok can leave vicariously through
Jatujak Online
2. Get a massage or visit a spa
A one hour foot massage cost bout US$ 6 - 7 in a massage shop just about in every corner of Bangkok Central. A more upmarket spa like Asian Herbal Center would cost a lot more but the ambience is much better. However, a Thai massage is not for the faint hearted. Proceed only if you're used to bone cracking and back twisting.
3. Visit the Floating Market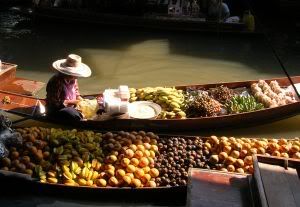 It's quite a chore to get to. Most tours start at 6.30 - 7.00 am - the bus ride takes roughly an hour. You're dropped off on a pier to take a longtail boat which takes you through some of the remnants of Bangkok's famous canals to the market itself. Tip for those taking the longtail boat - sit either in the very front or the very back, those in the middle will be liable to get splashed. Also if you're finicky about life vests and the possibility of taking a dip in dirty water, give this a miss. You can ask to be taken directly to the market.
4. Eat Thai food at a road side stall.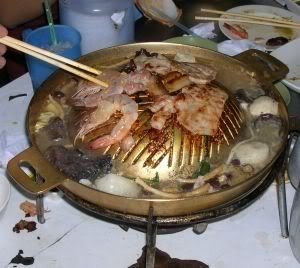 Beware, you have to have a constitution of an ox. For those of us who have lived most of their lives in Asia, it shouldn't be any problem. One of the best food we ate was in a hot pot stall opposite Isetan near the Chidlom station on the BTS Skytrain. See that lump at the top?? It's a piece of pork lard which provides all the oil needed for cooking all the meat we ordered.
5. Drink beer in a microbrewery.
There is authentic German beer brewed on the premises at Tawandaeng German brewery.
Read a review
. I have to say the Dunkel is nice but the Weizel (sp??) is even better. You have to book beforehand or you'd wait quite a bit for your table.
6. Visit the Assumption Cathedral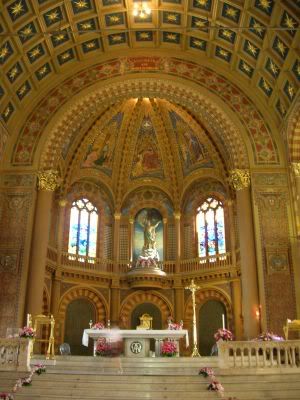 In a land full of temples why on earth would one go to a cathedral. Well for mass actually. But what a surprise! This magnificently restored cathedral puts our local St Johns in Kuala Lumpur to shame. To get there - get a taxi to the Oriental Hotel and ask the doorman for directions - it's just around the corner. Would you believe it - it has it's own
page on Wikipedia
7. Get some tailoring
Suits, shirts, skirts, gowns all made to order within 24 hours. For women, you have to be a bit more picky about the tailors as not all of them can make a gown or a feminine suit with much success. I noticed the ones around the Oriental Hotel are more inclined towards women's evening gowns. Most are better trained at the gentlemen's tailoring. However if you're just wanting to make some fitted shirts, you can't go wrong with US $ 8 - 9 a pop.
8. Shop for knock offs locally made branded goods.
If brands like Gacci, Bikenstone, Levvies and Amani offend your sensibilities, please avoid walking on Sukhmvit Road. Otherwise - enjoy!!