I've been having some fun swatching for the
Crossed in Translation KAL
.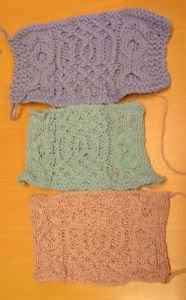 From top: Cotton ease, Sirdar Breeze, Jaeger Trinity
From gauge reports on the KAL blog- it seems that a light worsted would be the best yarn to use, and true enough the Cotton ease gave me a gauge that was 2 stitches more than recommended. I would have liked to use the Sirdar breeze but apparently this yarn has been discontinued and the LYS I got it from has only a few balls left.
Cotton ease has been the nicest to knit with, the Trinity is the lightest but you can hardly see the cables. I'm only afraid that it will be one huge sweater.
I knitted up about 4 inches of the sleeve last night and it is an exercise in concentration. There's all this different panels of charts to do which are all scattered over the page and increasing at the sides as well. Think I'll go back to Samus tonight.
I had thought of goin on a yarn diet and to do major stashbusting this year - at least for the first half of the year but already my yarn addiction is rearing it's ugly head. I'm drooling over this

Shall I get and let it be the last yarn purchase of the 1st quarter of this year??