It's arrived!
My little starter kit arrived on Monday from
Inspirations Yarn
and I wasted no time in opening it up and giving the spindle a little twirl. But the twirling spindle caught the eye of my two-year-old and he came running to inspect the new Toy. No amount of "Mustn't touch" could stop him from trying to play "Catch the Spindle" which meant I had to put it away until he was in bed for the night.
What an appropriate Valentine's Day surprise for my love affair with fiber.
Unfortunately, DH and I had to do this dinner thing that evening so I couldn't play with the spindle until the next evening.
The next evening - this is what I produced:-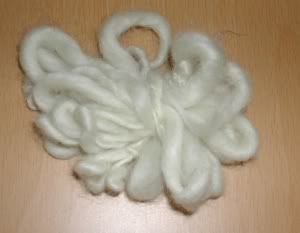 It's looks like more roving than anything but I've seen some novelty wool which looks similar. I have to save this little skein for posterity. My first skein of hand spun yarn.

My next efforts did look a little more promising but with a different roving - a Shetland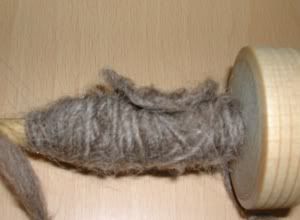 My DH looks like he's seriously worried. He said " umm.. I thought spinning was done with the wheel thing and Rumpelstiltskin will come and help you at night?"
I just answered " I haven't got a wheel yet, but maybe I'll get one once I've saved around US$700."
I think he turned a slight shade of green but he didn't say anything more. I'll give him a break - I won't buy any more stash for the whole of Lent.
Butterfly update
I am still halfway through the Butterfly's Collar - with another 6 inches to go. It's slow going cos it was freaking hot here over the past week! Just felt like yesterday when
Lyn
and I were freezing our butts off in Starbucks.
But I am sure I'll get it done by this this week. That is, if I am not too distracted by, uh, other things.. ;)