I've blocked the body of the Butterfly - while I work on the sleeves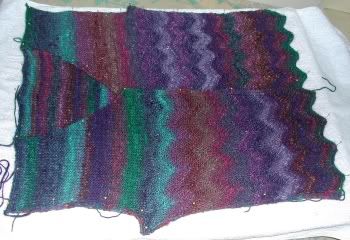 Ok so most of you voted for me to continue with the Lacy Tunic and I think I agree. I still like this pattern even though it's languishing in my to-be-blocked bag. Besides I don't think the Trinity would suit Rogue. The pattern requires a stiffer yarn that would show of the cables better. So I have decided to use my Rowan All Seasons Cotton instead.
Which would mean froggin and ripping out the
Lacy Jacket from Schachenmeyr Inspirations
. I looked at again last night and decided that the ASC is too thick for that jacket. The Trinity, however, would probably work better.
So you see - a little juggling around means I don't have to get more stash for my next project.
Which means I'd have the cash to get me a spindle and some roving - * evil grin*
Stitch & Bitch
Lyn
and I met up with
Laura
and her very patient boyfriend yesterday. He sat right through our knitting blather reading Dan Browns Angels and Demons (which, by the way, I was meaning to ask if it was good, but
didn't have a chance
forgot) and very obligingly took a photo of us before Laura left.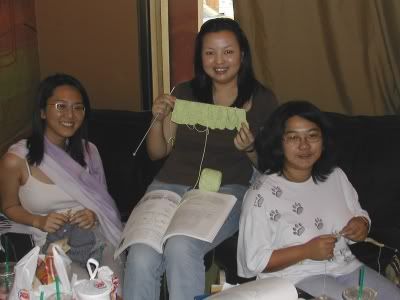 It's a little dark and I am hopeless at the photo-editing, but you get the picture (literally). On the left is Laura holding her "Tempting" and there's Lyn in the center with her latest project and me doing a couple of rows on my Japanese Lace top project.
It's good to meet like minded knitters. We were yakking so much I casted on 10 more stitches on the front of my Lace Top. Topics of the day were the usual Bitch about the price of yarn in Malaysia, favourite and non favourite LYS, where to get the best ( and cheapest) yarn online, poring over each other's books, comparing yarns and talking about the next project.
We hope to this again next Sunday at 3.00 pm and hopefully
Celia
and
Doreen
can join us this time.
I'd like to update more of the 100 useless facts about me but I'm developing the usual PMS migraine and have had about all that I can tolerate of the PC monitor.
See ya!