I received the 1st of my Birthday stash - lot of Phildar Onde in Yellow from Valerie at
Knit 'n Tyme
. I must be a slow developer as Phildar Onde has been discontinued and I was fortunate enough to grab the last few lots Valerie had.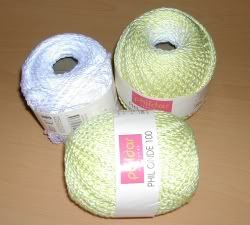 I am not sure why I decided I wanted some - I can't believe anyone would discontinue such an unusual and lovely yarn, especially when it seemed to be doing so well.
Got this last month in honour of my birthday (shh! don't tell the Hubby.) along with 3 extra balls of Noro Silk Garden #37 to finish off my Butterfly and 5 skeins of Koigu KPPM.
Instead of receiving the Noro #37, I opened the box and found #87. The seller has promised to send me the correct Noro colourway but I ain't holding my breath. I am just hoping that the 3 and three-quarter balls I have left will be enough for the collar and sleeves. Just to be safe I'll be doing the collar first so I can easily turn the Butterfly into a vest if there isn't enough yarn for the sleeves..
I will be casting on for the collar tonight.
Still waiting on the Koigu ... crossing fingers.. hoping that it will arrive safe and sound.
Still eyeing the spindle...