According to my baby Gregory everything with wings is a "b-b-ba-te-fy" unless it tweets, then it is a bird.
I don't know what he'll think of his mummy's butterfly...
I've finished the left front -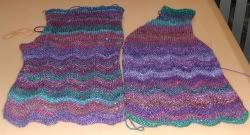 You may not be able to see it from here but the shoulder is about 1.2 - 2 inches longer than the back! How did this happen? I honestly don't know. I was concentrating on the decreases and it was late at night and I wanted to cast off before I went to bed. Now I have to frog it before I start the next front.
The house is still in a mess but we managed to get our friends over last weekend just for a round of pizzas and beer. So there were at least 30 of us - but everyone made themselves comfortable on the floor and on plastic chairs outside. All the kids were playing in the tent Gregory got for Christmas - placed in the living room.
Lyn
came along as well with her hubby and gave me this fantastic big purple and pink tote.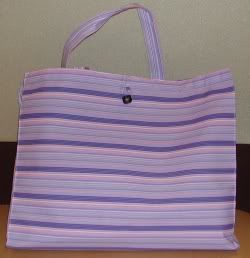 It fits my Butterfly project perfectly.
Today my surfing time was totally taken up by visions of drop spindles and beginner spinning kits. Yes I have this idea that I might save money on yarn by spinning my own.
*pause*
Before you drop of your chairs and roll around laughing.... I am seriously thinking of learning to spin. Maybe not to save money but just to see if I can.
*pause*
I think I need help.