Take a look at my finished Flower Basket Shawl, half draped over my office chair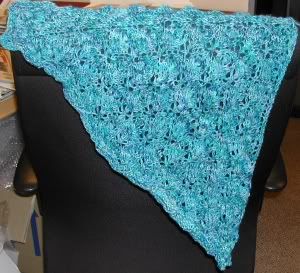 Done with 2 strands of laceweight merino from Lotusblossom (ebay) colourway - Lagoon
Click here for a closer look.

If I had not seen the other similarly unblocked FBS's in blogworld, I'd be crying in my cups right now. BUT I have faith in my blocking abilities. It's going for a nice warm "bath and block" tonight.
Oh by the way - started this on 11 March and finished on 20th March - one of my fastest project ever.
I have found my perfect Clapotis yarn. More pics later.
Celia,
I drew your name out of the correct guesses for the Broadripple socks - I'm almost starting the toe - got distracted by the Flower Basket shawl. Please email me your address so I can send you a nice ball of Filatura Kid Mohair in Blue.