I just have to share with you what I discovered during the weekend.
Filatura di Crosa Kid Mohair rocks!!
I got some from
Emy
a couple of months ago and decided to break it out this weekend to do a small swatch for my Fiddlesticks knit a long.
Yes I have sadly neglected my lace knitting after my pathetic attempt at Inky Dinky stole, so I decided to try again this time using the Lacy Lattice Stole.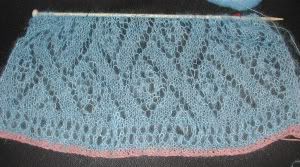 Take a closer look
I feel like I am knitting with clouds, it's that soft and airy. Of course the downside is that it does fly about a lot if you're knitting under a fan so one has to get a good grip on the yarn. Occasionally I do feel bits of fluff itching around my nose and in my throat but it's not as bad as some other mohairs I have used.
The best part is that it's way cheaper that Rowan Kid Silk Haze so I think the next project with this yarn would be
Polly's Kiri
.
Stasher's Anonymous 5 step programme
I was just having a conversation with
Laura
about yarn obsessions.
I though I'd share the things I do to stop myself from buying yarn - especially in the last few weeks ( I have 20 days to Easter and counting!!!).
1. The worst place of temptation - EBAY! Whatever you do,don't visit it everday. If you have anything in your favourite searches, don't set it to send to your mailbox.
2. Ditto for your favourite online shop.
3. If you just can't resist something, click save it to your watch list instead and wait 24 hours before you do anything.
4. When surfing in an online shop - click the desired items and place them in the shopping cart. THEN CLOSE the window and do not go back to the site for at least 24 hours. Repeat everyday if necessary.
5. Don't drive anywhere near your LYS. If you must go in, drag along some knitting friends with you and watch them buy up the store. This just gives me a such a sick vicarious (sp??) buzz.
On suppressing impulse buys ( especial when Sales occur)
1. Repeat this mantra " There will always be another Sale"
2. Set a budget every month for Stash and do not deviate!! Don't make up for the fact that you spent less last month either.
3. Have a list of your most wanted and set what is the most you are willing to pay for each item. Update this list only every month.
4. Compare every yarn you are thinking of buying with this less and do not deviate. If you must buy something not on the list- take something out.
5. If you take something out of the list - put it back in only after 2 months. After that time you might find you don't want it as much. ( Or most probably ,you might find something else you like better).
And if all else fails -
DESTASH FIRST BEFORE YOU BUY YOUR NEXT LOT OF YARN.
Did I say there was 20 more days to EASTER??