So here's the Butterfly in all its glory.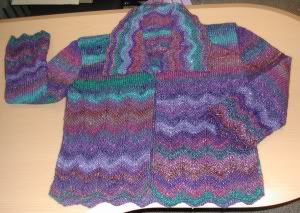 Colourway #137

I haven't a pic of me in it cos I can't seem to get one which looks passably decent.
Lyn
was supposed to come over last Sunday to take a few photoes but we were both tied up and did not meet in the end.
Anyways - I need to do some major fix up on this one. As you may have noticed - one side of the front is longer than the other. I don't how that could have happened unless it was during one of those marathon late night/early morning knitting sessions watching Deep Space 9 DVDs. I'm not sure how I am going to fix it yet, probably pick up stitches on the cast-on edge of shorter side and knit about 1 inch.
Secondly, it's huge!! I really over estimated my size this time. Probably over-reacting to the other time with the Shapely T when I under-estimated.
You know what I might just re-do the whole thing in maybe about oh... 3 years time or so - around the next time there is a recycling campaign. In the meantime - my Mum seemed to like it so she'll probably get more wear out of it than me.
I've finished one sleeve of the Zara project (which I'll refer to the Pseudo Gansey, because it reminds me of some other ganseys I've seen around the net, in particular
Rachel's
)
I'm doing this project in tandem with the Zara.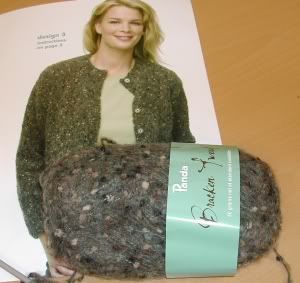 It's for my sister who sent over the wool last year with my Mum. She'll be coming over in July to pick it up, so I probably should get started on it. Check out this yarn - Panda Bracken Tweed - a mohair acrylic mix.
I just love the name "Bracken Tweed" - it's so descriptive. Everytime I say it "Brrracken Tweed" I just imagine the scottish highlands surrounded by heather, moss and tweed, wind in my hair and some handsome scottish laddie walking around in kilts.
"Brrrraaacken Tweeed"
Sorry! got distracted by the scottish laddie! I went to boarding school in Dunedin NZ so am a little partial to handsome scottish laddies.
My sis asked me to make the cardigan but I'm more intrigued by this pattern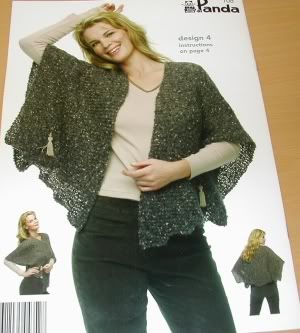 I've asked her to get more of this yarn but she says it was discontinued. So if anyone of you knitters out there have some (about 5 balls) in your stash you'd like to get rid off... please let me know.