Look what I got from my Secret Pal !!!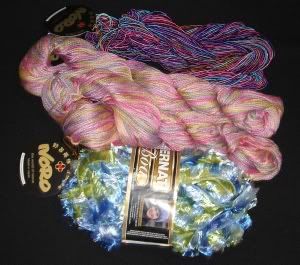 From top to bottom:- Noro Daria for a necklace scarf; Noro Lily for socks ( oh no won't use this for socks! Will hoard this for something special!) and Bernat Boa - just for the fun of things!
You're the greatest !!!!
Lyn
came over last Friday to do some winding and we took some pictures but it needs some touching up. We sat outside on the patio cos it was an extremely hot night. I must say that the ball winder is a great investment, what took me 2 -3 hours to wind now only takes about 10 minutes.
We gave our hands and waists a good work out cos we took turns in holding up the skeins and moving it back and forth in time with the ball winder - so hey! who says you don't get any exercise from knitting.
Click the thumbnails for a closer look at we were doing


Fired up by the gorgeous skein of handpainted merino lace from
Lotus blossom
that I wound up, I started the Flower Basket Shawl.
Lyn asked if I could figure out the casting on - and after frogging twice - I did! I originally cast on with a red viscose cotton from Garnstudio which I thought I might wear for my sister-in-law's wedding in April. But a visit to the tailor's the next day resulted in me choosing a blue- green dress. So the handpainted colourway names Lagoon won and I've been obsessed by this shawl every since. I'm at the 1st repeat of the upper Basket pattern - another 6 to go.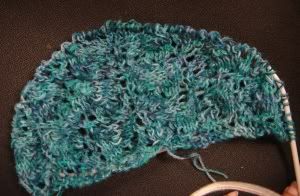 I've also been working on a mystery project - so mysterious that when I tried to upload the photo to photobucket - I hit a scheduled maintainence page. So I'll let you make guesses on what my mystery project is. Just to make it a little more fun, any right guesses will go into a draw for a ball of Filatura di Crosa Kid Mohair fine - the same as what I am using for the Lacy Lattice Stole. ( *oh Lyn you can't join in the fun cos you saw it already*) A clue? - well it's rippling.
Just send in your guesses through my email or in the comments here.