I've been busy with
this
at work. And failing to make much progress with my
Plaza.
After one week I am 15 cm short of the shoulder shaping on the back.
No point in posting progress pic, cos the piece is not blocked, curls like crazy and bunched up on straights.
But I will leave you with a picture with the fabric this yarn makes - Cleakheaton Country Style 8 ply pills! That's ok cos I kind of like that weathered look but after knitting with cotton and merino for so long, I had forgotten what 100% pure wool does. Oh and the other difference with this knit is that I've made a conscious effort to wind the knit stitch anti clockwise on the needle instead of clockwise.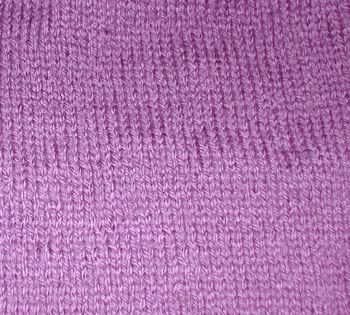 Check out
Vanessa's One Skein Wonder.
I've decided I wanted one too so I looked around my stash for a suitable yarn and chanced upon my long abandoned Clapotis....
*sheepish grin*
I am sure you can guess what happened next.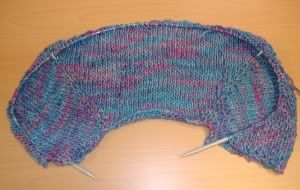 For Hojo who left a nice comment - the Primula Pattern is from The Book of Modern Lace Knitting Book 1
.