I've finished the semi circular Primula shawl. Well it's more of a capelet than a shawl cos it's too small to go round the front for me. It would be a nice lacy shawl for a little girl - so anyone out there has a little girl who would like this shawl?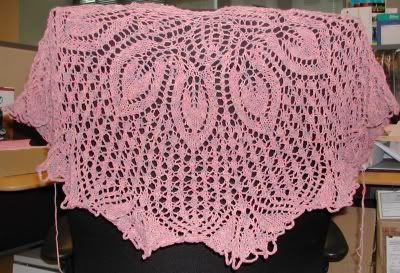 Overall I am very pleased with the results since it was an experiment of sorts. I am going to add an i-cord tie at the front so it won't fall off the shoulders.
Things to do for the next one ( yes I think this is one pattern which I am keen to try again) :-
1. See where the leaves start?? I'm going to start there and knit a full circle to make a lacy poncho.
2. I am NOT going to do another crochet bind off - shudder!!!!
3. Alternatively I would start at a little higher than the leaves and work over back forth over the whole pattern - so that I would get a circular shawl with a slit in the middle.
I want to start this tomorrow BUT...
I have started Plaza from the RYC Classic Cafe for my sister and I really want to finish that in 4 weeks before she arives.
I know. I am a bad girl.
What happened to the Bracken Tweed Cardi? I can't seem to get started on it again so I decided a fresh start on a new project was required. As long as my sister gets one of the items she asked for on time :)