500 yds of sock/fingering weight yarn
Colour : Very Berry from
Over the Rainbow Yarns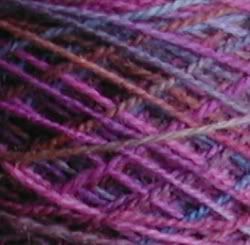 What do you think I should do with this? It's just too pretty to be socks.
For now I am just happy to look at it.
I've actually had a productive weekend.
Lyn
and I met up on Saturday at Brenda's and she worked on a necklace for her mom while I knitted another little sleeve of the
Japanese Lacy Top
Pink Grapes Top
(It's time to start naming my projects).
Then on Monday I worked another pattern repeat on my Fiddlesticks Lacy Lattice Stole. On tuesday I worked on a mesh canvas bag I started many moons ago. Yesterday I worked on a semi circualr shawl I am adapting from a circular lace doily pattern.
All of which I have yet to post progress pics.
See how I am subtly delaying going to back to work on my sister's Cardigan?
Speaking of which. I just received 3 more balls of Panda's Bracken Tweed from Bronwyn in Australia- She read about
it on an earlier post
and has some in her stash that she didn't what to do with. So she sent it along to me!!
Isn't the internet amazing?