I've caught the lace bug - very very bad addiction. Almost all my purchases nowadays are sockweight or laceweight yarn. Who can resist the lure of cobwebby, airy, lacy goodness ?
Remember the Fiddlesticks mohair Lacy Lattice Stole? Well I managed another pattern repeat last week and have another 9 to go before I get to the next pattern change. It's taking me so long cos I only pick it up when I have a very quiet evening with no interuptions. It's not a complicated pattern but I need to make myself relax when knitting with this yarn. Find myself taking very deep breathes before every row and fiddle my fingers to limber them up.
I might attempt another repeat tonight.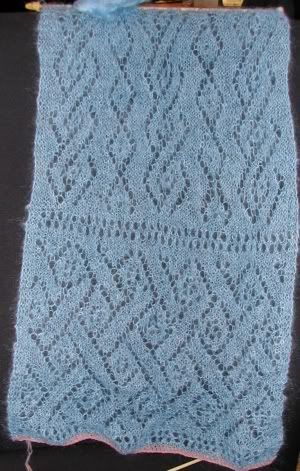 About a month ago, I finished a circular doily called
Egelblad from Nurhanne's Yarn-Over
site. Have a look at my unblocked version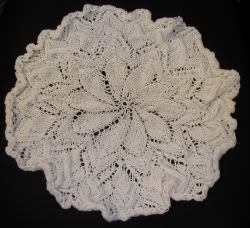 This is done with Adriafil's baby wool 4 ply (fingering weight) and I think when stretched it would be about 16 inches in diameter. Cruise over to
MJ's
to look at her version done in crochet cotton #10.
I would have started another doily but for the fact that the casting on and the first few rows drives me nuts. I am not an expert in dpns and fiddling around with 8 -10 stitches on 4 needles is a freaking nightmare. It's ok once you've got to about 30-40 stitches on the needle then you can switch over to circulars using the magic loop method.
So to avoid that fiddly cast on, I decided to make a semi circular shawl - using half of a circular pattern. Using the Katia Mississippi print 3 in my stash and 4.5 mm circs and following the primula pattern from Modern book of Lace Knitting 1, I casted on for the Primula tablecloth.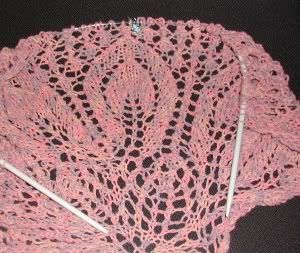 This is what the original looks like
It's a horrible picture cos I can't get the shawl spread out on the circs, you get the general idea. I am about two thirds of the way through and the top edge measures about 28 inches. So I hoping for a 40- 42 inch shawl when it's finished.
I've since found some tips on making that first few rows a little more bearable-
1. MJ suggested not joing the circle until the second row ( or even 4th or 6th row) and closing the gap when weaving in the ends.
2. The Modern book of lace knitting suggested a crochet cast-on similar to one described in DeAnn's blog
here
.Sad to say it didn't work for me.
2.Knitter's review lace forum has also some suggestions on alternative cast on methods
in this topic
3. One of the methods discussed were to use a provisional i- cord cast on - use another yarn to make an icord for about a couple of inches then switch to your working yarn leaving a tail and a lifeline on row 1. Once you're done with the piece or have enough stitches to be comfortable , you can undo the i-cord until you get to the working yarn, run the tail through your first row and do a drawstring bind of.. This sounds like a great method and I'm going to try this with my next project.
Oh and yes I remember I promised to show you my beaded stitch markers on a project so here are a couple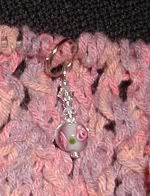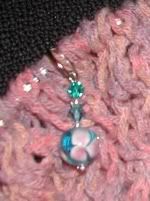 Thanks to those who left suggestions on what to do with the Very Berry yarn. If I'm still under the influence of this lace knitting bug by the time I get to it - I think I'm going to have another lacy shawl on my needles.